| | |
| --- | --- |
| <![if !vml]><![endif]> | <![if !vml]><![endif]> |
New ZMO publication series: Texts in Context
<![if !vml]>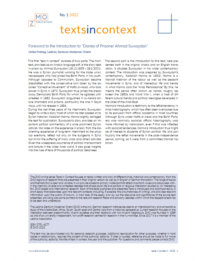 <![endif]>
The new ZMO online series Texts in Context focuses on texts (written and oral) of different kinds, historical and contemporary, from the ZMO regions of research. Each of the texts published and presented here is introduced and accompanied by a short essay that elaborates upon the relevant contexts and provides relevant information upon the author. A main task of the essay is to lay out the relevance and significance of the source text presented, providing also some pointers to the relevant research fields and scholarly debates within which the respective text has to be seen and understood.
Text in Context No 1 is "1992 – 1991 تاريخ من لا تاريخ لهم يوميات السجين أحمد سويدان (History of Those Who Have None. Diaries of Prisoner Ahmad Suwaydan 1991 – 1992), prepared and introduced by 'Abdallah Hanna and a foreword to the introduction by Ulrike Freitag.
Quiz: Wie viel wissen Sie über den Islam?
<![if !vml]>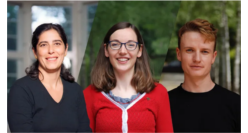 <![endif]>
Wurde schon immer gen Mekka gebetet? Und welche Rolle spielt Jesus eigentlich im Islam?
Testen Sie Ihr wissen mit dem Quiz unserer drei ZMO-Expert*innen Sonja Hegasy, Noël van den Heuvel und Maria-Magdalena Pruß.
Das Quiz erschien in dem Format "Zehn Fragen, ein Experte – das Wissenschaftsquiz", eine Kooperation von der Leibniz-Gemeinschaft und t-online.
(Fotos: Oliver Möst, Samuli Schielke)
4 July 2022, 5 pm, ZMO/Online
National Identity Building and the Question of Language in Modern Oman
Lecture by Roberta Morano (University of Leeds/Oman Research Fellow at ZMO)

<![if !vml]><![endif]>

This lecture appraises the impact of the "Renaissance Narrative" built by Sultan Qaboos in the Seventies on the transformation of the linguistic landscapes in Oman. The role played by Sultan Qaboos in the building of a 'new nation' is undeniable, although some scholars attribute a certain degree of mythological construct to his political discourse. Nevertheless, Sultan Qaboos was faced with the enormous task of having to bridge over the fragmentation of early Omani society by building a new national identity that was shared by its various ethno-linguistic communities and tribal groups. Modern Oman is, in fact, the result of a great biocultural diversity developed over centuries of internal and external displacement, maritime trades and foreign incursions, but also of a very deep indigenous dichotomy, i.e., Imamate versus Sultanate, the interior and the coast, tradition versus modernity.
The event will be held in a hybrid format. Please register here to participate via Zoom. For participation on site at ZMO, no registration is required.

6 July 2022, 4 pm, FU Berlin/Online
Plant Matters: Thinking With Plots and Landscapes From Uganda
Lecture by Sandra Calkins (FU Berlin) as part of the Berlin Anthropology Seminar

<![if !vml]><![endif]>

This seminar series constitutes a joint initiative by anthropologists from FU Berlin, ZMO, and Ethnologisches Museum. It intends to shape and cultivate an inclusive platform and open regular meeting point for exchange and discussion on current research by Berlin based anthropologists. Please spread the word among colleagues, junior or senior, who may be interested.
Please find a zoom link under "more info".
11 July 2022, 4 pm, Online
Consultative Mechanisms and Institutions in Late Ottoman Jeddah
Lecture by Ulrike Freitag (ZMO) as part of The Historicity of Democracy Seminar.

<![if !vml]><![endif]>

This presentation reflects on different types of consultation in late Ottoman Jeddah, the major port of the province of the Hijaz. The presentation will not only engage with the question of how Ottoman reforms at the urban, provincial and imperial levels were implemented and who were the beneficiaries of these reforms, which provided for particular portions of elected members in various bodies. It will also point to less conspicuous forms of consultative and elective mechanisms, namely when it came to the organisation of the urban quarters, but also within bodies such as the guilds. An interesting issue is the afterlife, and temporary revivals, of some of these practices in Saudi Arabia.
Given the scarcity of accessible sources, as well as their variety, the presentation will stress the types of materials consulted, as these point to the necessity for historians to cast their nets very widely.
The online seminar is free and open to the public upon registration: https://forms.gle/A8AJDvdaQyUiG5qD8

12 July 2022, 5 pm, ZMO/Online
Thinking of a Moral Economy with Ibn Khaldun
Lecture by Abdulkader Tayob (University of Cape Town)

<![if !vml]><![endif]>

EP Thompson argued that the bread riots in eighteenth-century England were inspired by norms and obligations that contradicted an emerging capitalist market. He used the concept of a moral economy to explain the actions and motivations of the rioters. The idea of a moral economy has gained some currency to reflect on how religious traditions inspire moral economies, but contemporary religious moral economies are not as extensively studied. Given this lacuna, the presentation deliberates on an Islamic moral economy through the work of Ibn Khaldun, the fourteenth-century historian and philosopher. It presents Ibn Khaldun's analysis of the different ways in which individuals seek sustenance guided by practical but also moral and religious considerations. Ibn Khaldun's reflection on 'moral economy' combines economic considerations with a framework that includes divine beneficence, rational reflection, human strategies and follies.
The event will be held in a hybrid format. Please register here to participate via Zoom. For participation on site at ZMO, no registration is required.
14 July 2022, 5 pm, ZMO/Online
Manufacturing Stability: Class and Property Contestations in an Egyptian Steel Town
Lecture by Dina Makram-Ebeid (The American University in Cairo) as part of the ZMO Colloquium

<![if !vml]><![endif]>

In everyday discourse in Egypt, having stability ('istiqrar) has come to mean various things: access to marriage, the making of a family, a steady income, a stable job and in specific cases, the ability to pass on tenured jobs to one's offspring. Through ethnographic research in Helwan, an industrial city in the south of Cairo, the paper explores how new forms of property relations emerged under the conditions of late capitalism. It probes how tenured jobs in public factories acted as a potential property right that informed the contestation of class at the intersection of the different discourses of stability. The paper looks at the life trajectories of fathers and sons working side by side on the shopfloor of a steel plant and highlights how the aspirations for a good life through the preservation of family legacies became a claim for privilege consolidation that complicated class politics and gave the discourses of stability broader and more political meanings.
The event will be held in a hybrid format. Please register here to participate via Zoom. For participation on site at ZMO, no registration is required.

19 July 2022, 5 pm, ZMO/Online
Wide Awake: Nocturnal Life in Eighteenth-Century Istanbul
Lecture by Avner Wishnitzer (Tel Aviv University)

<![if !vml]><![endif]>

The dark half of the day, indeed of history, has rarely attracted the attention of historians of the Middle East. The assumption was, presumably, that everyone went to sleep and therefore, that there was nothing worthy of attention going on in the dark. It is as though history itself hibernates at night, as if it unfolds only in broad daylight. In fact, the night in the early modern Ottoman Empire created unique conditions for economic, criminal, political, devotional, and leisurely pursuits that were hardly possible during the day. It offered livelihood and brotherhood, pleasure and refuge; it allowed confiding, hiding, and conspiring. Common to most of these opportunities was their being out of sight, and hence, unacknowledged. To be "in the dark" not only involved the insecurity of not knowing, but also the promise of not being known, and the benefits of pretending not to know. This hide-ability had far-reaching consequences on Ottoman state and society in the Early Modern period.
The event will be held in a hybrid format. A link for online participation can be found soon under "more info".
orient bulletin. History and Cultures in Asia, the
Middle East and Africa

<![if !vml]><![endif]>

In the latest ZMO orient bulletin, (No. 41, June 2022), ZMO research fellows report about their recent activities such as doing fiieldwork, organising lecture series or starting new projects. Heike Liebau reflects in a short text about the discussion on cooperations with and support for scholars from Ukraine and Russia.
Leibniz-Zentrum Moderner Orient
Kirchweg 33
14129 Berlin

Tel.: 030/80307-0
Fax: 030/80307-210
www.leibniz-zmo.de - zmo@zmo.de
©2022 Leibniz-Zentrum Moderner Orient. All rights reserved.
To unsubscribe from the ZMO news please send an email to presse@zmo.de