| | |
| --- | --- |
| <![if !vml]><![endif]> | <![if !vml]><![endif]> |
Reading in Arabic and English from the book "Anna and Dr Helmy" by Ronen Steinke
<![if !vml]>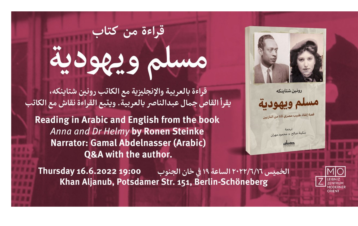 <![endif]>
Narrator: Gamal Abdelnasser (Arabic)
The reading is followed by a Q&A with the author.
This book tells the remarkable story of Mohammed Helmy, an Egyptian doctor living in Berlin. He risked his life to save Jewish Berliners from the Nazis, among them a girl called Anna. Helmy spent the entire war in Berlin, constantly walking the fine line between accommodation to the Nazi regime and subversion of it.
The book also reveals a wider understanding of the Arab community in Berlin at the time, many of whom had warm relations with the Jewish community, and some of whom - like Mohammed Helmy - even risked their lives to help their Jewish friends when the Nazis rose to power. Mohammed Helmy was the most remarkable individual amongst this brave group, but he was by no means the only one.
Date and time: Thursday, 16 June 2022, 7 pm
Place: Khan Aljanub, Potsdamer Str. 151, Berlin-Schöneberg
8 June 2022, 4 pm, FU Berlin/Online
Learning Morality, Inequalities, and Faith: Christian and Muslim Schools in Tanzania
Book launch by Hansjörg Dilger (FU Berlin) as part of the Berlin Anthropology Seminar

<![if !vml]><![endif]>

Christian and Muslim schools have become important target points in families and pupils' quests for new study opportunities and securing a 'good life' in Tanzania. These schools combine secular education with the moral (self-)formation of young people, triggering new realignments of the fields of education with interreligious co-existence and class formation in the country's urban centres. Hansjörg Dilger explores the emerging entanglements of faith, morality, and the educational market in Dar es Salaam, thereby shedding light on processes of religious institutionalisation and their individual and collective embodiment. By contextualising these dynamics through analysis of the politics of Christian-Muslim relations in postcolonial Tanzania, this book shows how the field of education has shaped the positions of these highly diverse religious communities in diverging ways. In doing so, Dilger suggests that students and teachers' religious experience and practice in faith-oriented schools are shaped by the search for socio-moral belonging as well as by the power relations and inequalities of an interconnected world.
Please find a link for registration under "more info".

13 June 2022, 4 pm, Online
'Authoritarian Democracy' and the late Ottoman Empire: State, Power, and Civil Society in the Second Constitutional Period
Lecture by Erol Ülker (Iþýk University, Istanbul) as part of The Historicity of Democracy Seminar.

<![if !vml]><![endif]>

This paper aims to discuss the political and ideological character of the single-party rule that prevailed in the Ottoman Empire during the First World War. It addresses this topic by focusing on the formation of a corporatist movement in the Second Constitutional Period (1908-1918). The foundations of this movement were laid after the Constitutional Revolution of 1908, when a large number of associations, trade unions, and cooperatives were established in the Empire. A political circle associated with the Committee of Union and Progress (CUP), the driving force of the Revolution of 1908, benefited from this unprecedented expansion in Ottoman civil society. This circle developed strong political and economic ties with artisan and labor organizations, and formulated a corporatist political programme. Representation of Professions (Temsil-i Meslekî) proposed the restructuring of political and economic life based on corporations representing major occupational groups.
The online seminar is free and open to the public upon registration: https://forms.gle/A8AJDvdaQyUiG5qD8
13 June 2022, 4 pm, Online
One Day at the Office: Upapasi, Spatial Il/legalization and Matter in Urban Zanzibar
Baraza la Kiswahili la Berlin with Muchi and Irene

<![if !vml]><![endif]>

Katika mazungumzo na majadiliano baina ya Muchi na Irene, wasilishaji hao wawili wanatuhadithia kuhusu kikundi cha vijana wanaoitwa mapapasi ambao wanafanyia kazi Sekta ya Utalii mjini Zanzibar tangu miaka ya Themanini, ijapokuwa mchango wao katika uchumi haujatambuliwa au kurasimishiwa na Serikali. Badala yake, mara nyingi vijana hao wanaudhiwa, wakipuuzwa na kuadhibishwa kwa vile hawapaswi kwenye picha ya kiserikali ya kukuza Zanzibar kama mahali pa misafara ya Watalii. Muchi na Irene wanalinganisha kazi ya Upapasi vile ilivyokuwa zamani na vile ilivyo sasa hivi. Pia, wanatafakari kuhusu nafasi ya mapapasi mjini Zanzibar na katika hi/storia ya kijamii na kiuchumi visiwani huku wakichambua dhana ya uwenye/ji, maana, athari na umuhimu wake. Mwishowe, wanajadiliana na Wanabaraza kuhusu uwezo wa dhana ya u/ki/tu, pale wanapojitahidi kuelewa na kutafsiri nafasi ya watu, vitu, maneno na vitendo kwenye kutafuta na kujenga maisha.
Muchi ni papasi anayefanya kazi mjini Zanzibar, kisiwani Unguja. Irene ni Mwalimu wa lugha katika Taasisi ya Taaluma za Kiswahili, Chuo Kikuu cha Leipzig.
Please register here: https://tinyurl.com/5c9m7hjr

23 June 2022, 5 pm, ZMO/Online
Autochthony, Line Systems and State Building in Africa
Lecture by Jeremiah O. Arowosegbe (Humboldt Foundation, Humboldt University Berlin) as part of the ZMO Colloquium

<![if !vml]><![endif]>

Although ethno-territorial struggles affect the manner in which political authority is constituted and legitimised throughout the world, their impacts on the trajectories of power and the state in Africa have not received the attention deserved in the literature on political development and state building. Meanwhile, in majoritarian agrarian societies, land tenure, just like the granting of usufruct rights to water, shapes economic and political dynamics. Conflicts over land and struggles over access to the key resources of agricultural production are widespread throughout Africa and are likely to intensify in the light of ongoing climate change-induced production constraints to agriculturalism and pastoralism. While the details of these issues are best appreciated by examining the contexts and experiences of individual states, land and land rights together with the contentions over land laws, land reforms and the struggles towards democratising land rights constitute a vantage point for understanding these societies.
Please register here for online participation: https://us06web.zoom.us/meeting/register/tZcoc-morz0jEtcExROrWZSgC37u4bcE8Kq1
If you would like to attend the event in person, please send an email to registration@zmo.de.
27 June 2022, 5 pm, ZMO/Online
Sports & Modernity in Late Imperial Ethiopia
Book presentation by Katrin Bromber (ZMO)

<![if !vml]><![endif]>

Sports in Ethiopia was always more than a means of useful recreation. It was also a way to enjoy and define fun, as new modes of behaviour emerged that showed what it meant to be a modern man or woman. This book is the first academic study of the history of modern sports in Ethiopia during the imperial rule of the twentieth century. Showing how agents, ideas and practices linked societal advancement and bodily improvement, this innovative study argues that modern sports offers new possibilities to explore the meanings of modernity in Africa. Drawing on written and oral sources in Amharic, Tigrinya, English, French, German and Italian, the book provides an in-depth analysis of the role of sports in modern educational institutions, volunteer organizations and urbanization processes.
Please register here for online participation: https://us06web.zoom.us/meeting/register/tZYocO2opzwoH9AQneJSY9rdzC19ejNXdZWe If you would like to attend the event in person, please send an email to registration@zmo.de.
New Publications of ZMO's Advisory Board members
Leibniz-Zentrum Moderner Orient
Kirchweg 33
14129 Berlin

Tel.: 030/80307-0
Fax: 030/80307-210
www.leibniz-zmo.de - zmo@zmo.de
©2022 Leibniz-Zentrum Moderner Orient. All rights reserved.
To unsubscribe from the ZMO news please send an email to presse@zmo.de