| | |
| --- | --- |
| <![if !vml]><![endif]> | <![if !vml]><![endif]> |
The Saudi reaction to the Ukraine war as indicator of shifting alliances
<![if !vml]>

<![endif]>
The Cluster of Excellence "Contestations of the Liberal Script (SCRIPTS)" publishes a series in its blog that asks the question: "The Russian invasion of Ukraine as a contestation of the liberal script?". In No. 12, ZMO's director Ulrike Freitag describes how Saudi Arabia's reaction illustrates the re-orientation of the foreign policy of the Gulf states. Its refusal to stabilise energy prices in the wake of the invasion of Ukraine serves as a reminder that the West cannot rely on its partnership for gas and oil supplies.
"Nie wieder". Migration, Sozialisation und Erinnerung in Westdeutschland
<![if !vml]>

<![endif]>
"In den Debatten über die deutsche Erinnerungspolitik und das "Nie wieder" werden die Verbindungen von antisemitischem und antimuslimischem Rassismus in der Regel ausgeblendet. Postmigrantische Erfahrungen und Perspektiven könnten helfen, diese Spaltung zu überwinden", schreibt Sonja Hegasy in einer Analyse in Geschichte der Gegenwart.
9 May 2022, 4 pm, virtual event
Narratives of Migration from East Africa to the Arabian Gulf During the Decades of the 1960s and 1970s
Baraza la Kiswahili la Berlin with Nathaniel Mathews (Binghamton University, Oman Research Fellowship at ZMO)

<![if !vml]><![endif]>

Baada ya mwezi wa mapumziko ni furaha yetu kubwa kutangaza kikao kifuatacho cha Baraza letu la Kiswahili la Berlin (BALAKI - BE) ambacho kitakuwa na mada ifuatayo: Masimulizi ya Uhamiaji kutoka Afrika Mashariki kwenda Ghuba ya Kiarabu wakati wa miongo 1960 - 1970 - Nathaniel Mathews (Chuo Kikuu cha Binghamton).
Katika wasilisho hili Profesa Mathews atayajadili masuala yanayotoka kwenye utafiti aliyefanya 2012 - 2013 mjini Muscat nchini Oman na WaOmani waliozaliwa Afrika Mashariki, pamoja na utafiti aliyefanya 2014 kwenye nyaraka za taifa Zanzibar na nyaraka nyingine mbalimbali. Maisha ya wahamiaji katika kipindi hiki yanaonyesha michakato minne ya uhamiaji. Kwanza, "Wamanga" waliotoroka Zanzibar kama wakimbizi 1964 - 1965 baada ya mapinduzi ya Zanzibar. Wengi wao walisaidiwa na Shirika la Umoja wa Mataifa linaloshughulikia Huduma za Wahamiaji (UNHCR) na Msalaba Mwekundu kuingia Oman, na wengine walihamia pahali pengine: Dubai, Abu Dhabi, Doha, na Dammam, Saudi Arabia.
Please register here: https://tinyurl.com/4t73a273

9 May 2022, 5 pm, virtual event
Egypt's Football Revolution: Emotion, Masculinity, and Uneasy Politics
Book presentation by Carl Rommel, in cooperation with the Centre for Middle East Politics, University of Exeter

<![if !vml]><![endif]>

Both a symbol of the Mubarak government's power and a component in its construction of national identity, football served as fertile ground for Egyptians to confront the regime's overthrow during the 2011 revolution. With the help of the state, appreciation for football in Egypt peaked in the late 2000s. Yet after Mubarak fell, fans questioned their previous support, calling for a reformed football for a new, postrevolutionary nation. In Egypt's Football Revolution, Carl Rommel examines the politics of football as a space for ordinary Egyptians and state forces to negotiate a masculine Egyptian chauvinism. Basing his discussion on several years of fieldwork with fans, players, journalists, and coaches, he investigates the increasing attention paid to football during the Mubarak era; its demise with the 2011 uprisings and 2012 Port Said massacre, which left seventy-two fans dead; and its recent rehabilitation.
Please register here: https://tinyurl.com/2bf73vjp
11 May 2022, 4 pm, virtual event
The Dream of Stability
Lecture by Samuli Schielke (ZMO) as part of the Berlin Anthropology Seminars at FU Berlin

<![if !vml]><![endif]>

This seminar series constitutes a joint initiative by anthropologists from FU Berlin, ZMO, and Ethnologisches Museum. It intends to shape and cultivate an inclusive platform and open regular meeting point for exchange and discussion on current research by Berlin based anthropologists. Please spread the word among colleagues, junior or senior, who may be interested. For further questions contact m.oschwald@fu-berlin.de Organizers: Judith Albrecht, Paola Ivanov, Claudia Liebelt, Jonas Bens, and Kai Kresse.

19 May 2022, 5 pm, virtual event
Kolonya Renaissance: Hygiene, Healing and the Configuration of Eau de Cologne during the early COVID-19 crisis in Turkey and beyond
Lecture by Claudia Liebelt (Freie Universität Berlin) as part of the ZMO Colloquium

<![if !vml]><![endif]>

In taking the uses of eau de cologne in Turkey and its diaspora in the early COVID-19 pandemic as a starting point, this talk investigates the role of fragrant matter for cultural notions of hygiene and healing. Eau de Cologne, which emerged in Western Europe during the second plague pandemic, was localized as kolonya in Turkey during the nineteenth century. In the early COVID-19 crisis in Turkey, it regained its early association with hygiene and healing despite its high concentration of alcohol, which is a problematic substance in Islam. Moreover, it assumed a special role in Turkey's dealing with the crisis, revitalizing and transforming long-standing kolonya cultures. Drawing on ethnographic material and archival research, the talk outlines the uses and affective configuration of kolonya as an "intra-active" substance. It illustrates the entanglement of fragrants, bodily hygiene and (micro-)biopolitics in present-day Turkey. Finally, it engages with neo-material perspectives to argue for greater attention to be given to the olfactorial aspects of ethical formation in Islam.
Please register here: https://tinyurl.com/ymd6uftx
30 May 2022, 4 pm, virtual event
Water, Land and Early Nationalism: Protest and Popular Resistance in the Suez Canal Cities, 1859-1919
Lecture by Mohamed Gamal-Eldin (New Jersey Institute of Technology and Rutgers University) as part of The Historicity of Democracy Seminar.

<![if !vml]><![endif]>

Using court, police and other colonial-era records this paper produces a narrative of the built environment and urban space from below, and how individuals shaped out space for political protest and resistance. This study uses consular court records from the British consulate in Port Sa'īd in tandem with Suez Canal Company's (SCC) archival material on street inspections, hygiene and health and general policing in the Suez Canal cities. Additionally, intelligence records from the British Foreign Office gives us a unique view of the 1919 revolt along the Suez Canal. Individual interactions with the consular court came about primarily because of a criminal complaint that led to the involvement of police and then subsequently consular officials, because either the defendant or both were a subject of the British empire. These documents demonstrate the various ways in which residents interacted with one another on the street. The mention of specific public spaces or streets allows the urban historian to locate these cases on the urban landscape.
The online seminar is free and open to the public upon registration: https://forms.gle/A8AJDvdaQyUiG5qD8

31 May 2022, 5 pm, virtual event
Zanzibar's Arab Diaspora Families and Decolonization in the Western Indian Ocean, 1964-2014
Lecture by Nathaniel Mathews (Binghampton University, currently visiting research fellow at ZMO with the Oman Research Fellowship)

<![if !vml]><![endif]>

This talk is an overview of my book manuscript under review. The book is a history of the shifts and re-orderings in nationality and citizenship among a networked group of diasporic post-revolution exiles of mixed Arab and African descent, during the era of decolonization in the Indian Ocean, from the 1950s through the 1970s. Through use of archival documents, oral histories, and locally published vernacular works, ZWAC weaves together the story of a postcolonial diaspora from Zanzibar as they become exiles, emigres and Omani citizens. In seven chapters, it traces the diverse modern historical experiences within this group up into the twenty-first century: as 'Zanzibari' anti- colonial nationalists, as 'Manga refugees' shipped to Oman, as exiles and political dissidents in the UK and Dubai, as ethnic returnees to Oman, and as popular intellectuals of Zanzibar's history in Oman. ZWAC argues that these experiences demand we see Indian Ocean diasporas as not antithetical to nationalism, but as shapers of multiple national discourses not only through discourse of homeland elsewhere but through direct participation in the development of the territorial nation-state.
Please register here: https://tinyurl.com/26kukj7k
Klimaspiel für den Potsdamer Preis für Wissenschaftskommunikation nominiert
<![if !vml]>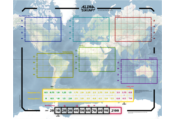 <![endif]>
Juliane Schumacher, assoziierte Wissenschaftlerin am ZMO, hat im vergangenen Jahr mit einer Gruppe Studierender ein Spiel entworfen, bei dem Spieler*innen die Hintergründe von Klimamodellen kennenlernen und ein Gefühl dafür bekommen, welche politischen und wirtschaftlichen Entscheidungen sich auf die Erwärmung des Klimas auswirken. Das Spiel wurde bereits im Rahmen der Wissensstadt Berlin 2021 vorgestellt und wurde nun für den Potsdamer Preis für Wissenschaftskommunikation nominiert. Am 1. Juni um 18 Uhr wird das Projekt bei einer öffentlichen Veranstaltung vorgestellt werden und anschließend die Gewinner bekannt gegeben. Mehr Informationen zur Veranstaltung sind in Kürze auf Homepage des Preises zu finden.
Sehbehinderung und Arbeit: Rekonfigurationen im digitalen Kapitalismus

Neues Buch von Andrea Fischer-Tahir, erschienen im transcript Verlag. Fischer-Tahir war von 2007 bis 2012 Wissenschaftlerin im SFB 640 an der Humboldt Universität (in Kooperation mit dem ZMO) im Projekt "Vergeben und Vergessen? Fallstudie Irak" sowie 2013 im Projekt "Knowledge circulation and media production in Iraqi Kurdistan".

Freiräume und Limits von Forschung in autoritären Ländern

In Folge 3 des BR50-Podcast geht es um Herausforderungen von Forschungskooperationen mit Ländern, in denen Wissenschaft kontrolliert oder Wissenschaftler*innen verfolgt werden. Zu Gast ist unter anderem die ehemalige ZMO-Stipendiatin Nazan Maksudyan (jetzt Centre Marc Bloch).
Leibniz-Zentrum Moderner Orient
Kirchweg 33
14129 Berlin

Tel.: 030/80307-0
Fax: 030/80307-210
www.leibniz-zmo.de - zmo@zmo.de
©2022 Leibniz-Zentrum Moderner Orient. All rights reserved.
To unsubscribe from the ZMO news please send an email to presse@zmo.de