| | |
| --- | --- |
| | Thursday, 1 September 2022 |
| | |
| --- | --- |
| <![if !vml]><![endif]> | <![if !vml]><![endif]> |
Tag der offenen Tür am ZMO / ZMO Open Day
<![if !vml]>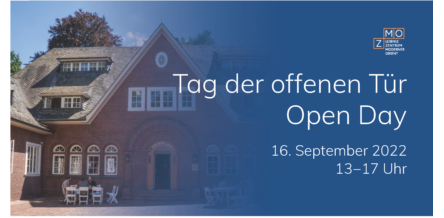 <![endif]>
Am 16. September von 13 bis 17 Uhr laden wir Sie herzlich in unser schönes Anwesen in Berlin-Nikolassee ein. Neben spannenden Kurzvorträgen bieten wir Ihnen geführte Rundgänge durch unseren Mittelhof und die Möglichkeit, die hauseigene Bibliothek zu besichtigen. Lernen Sie uns und unsere Forschungsarbeit kennen und verweilen Sie bei Kaffee und Kuchen in unserem Garten.
We cordially invite you to our beautiful premises in Berlin-Nikolassee on 16 September, 1 - 5 pm. In addition to inspiring short lectures, we offer you tours through our historic building, the Mittelhof, and the possibility to visit our in-house library. Get to know us and our work and enjoy our garden with coffee and cake.
Irene Hilgers Memorial Prize for Nikolaos Olma
Congratulations to our postdoctoral research fellow Nikolaos Olma who won the Irene Hilgers Memorial Prize for his article "Monotonous motorscapes: Uzbekistan's car industry and the consolidation of a post-socialist shortage economy" (Central Asian Survey 40, 2021 (2))!
The Irene Hilgers Memorial Prize celebrates the achievement of a junior scholar from any country who has had an article published in the four issues of Central Asian Survey from the preceding calendar year. The latest prize to be awarded was judged by Jennifer Brick Murtazashvili, Aksana Ismailbekova and Cynthia Werner.
Das rebellische Spiel. Die Macht des Fußballs im Nahen Osten und die Katar-WM
ZMO Alumnus René Wildangel hat gemeinsam mit Jan Busse ein Buch herausgegeben (Verlag Die Werkstatt 2022), das die Geschichte des Fußballs im Nahen Osten erzählt und den Fußball als Machtfaktor der Regierenden, aber auch als subversive Gegenkultur analysiert. Expert*innen aus Doha, Algier, Tel Aviv und Deutschland bieten spannende Einblicke in einen wenig bekannten Fußballkosmos. Dabei geht es auch, aber nicht nur um die WM in Katar.
Leibniz-Zentrum Moderner Orient
Kirchweg 33
14129 Berlin

Tel.: 030/80307-0
Fax: 030/80307-210
www.leibniz-zmo.de - zmo@zmo.de
©2022 Leibniz-Zentrum Moderner Orient. All rights reserved.
To unsubscribe from the ZMO news please send an email to presse@zmo.de